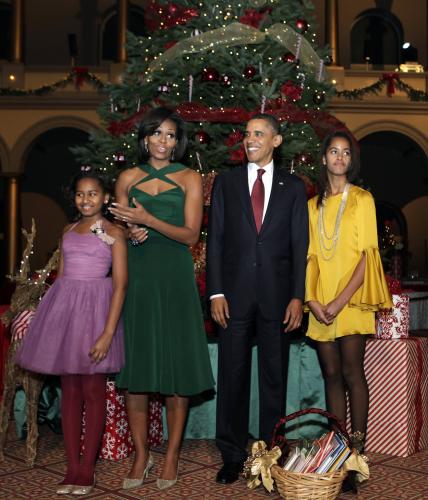 An Obama Christmas

Christmas is coming, the Goose is getting Fat
Obama is the President, the economy is flat
But if we had the other guy, disaster would ensue
The rich would still get richer and workers would be through
Christmas is coming, raise the stars and stripes
Share your pennies graciously, ignore the greedy types
It really takes a village to claim a nation's pride
One is only wealthy when everyone's supplied
With shelter, food, and health care. Employment, living wage
No one should be suffering in this day and age
Yuletide is beckoning for fairness and for laws
That protect the citizens from corporations' jaws
Christmas is coming, it's time to dress the tree
To embrace civility, peace, love and glee
Hearken Mother Nature! Celebrate her worth!
Pray for greener energy, investment, and rebirth
Christmas is coming, the country will rebuild
Strengthen infrastructure so potential is fulfilled
Life is more than shopping for baubles, bangles, gaud
Strong bridges, roads, and housing is what we should applaud
Christmas is coming, but don't forget to fight
Education, choice, and marriage is every human's right
Hear the chorus singing the glorious mortal sound
Rejoice for true democracy when freedom will abound!
Christmas is coming for daughters and for sons
The sensible among us don't worship arms and guns
Protect the gift of life, it's time to legislate
The worth of violent weapons by laws we should deflate
Christmas is coming, the gift of hope and change
Congress, find your conscience. Don't from this land estrange.
The people now have spoken. It's time for you to lead
Obama is the President we proudly want and need
***
Theo J. van Joolen
©2012