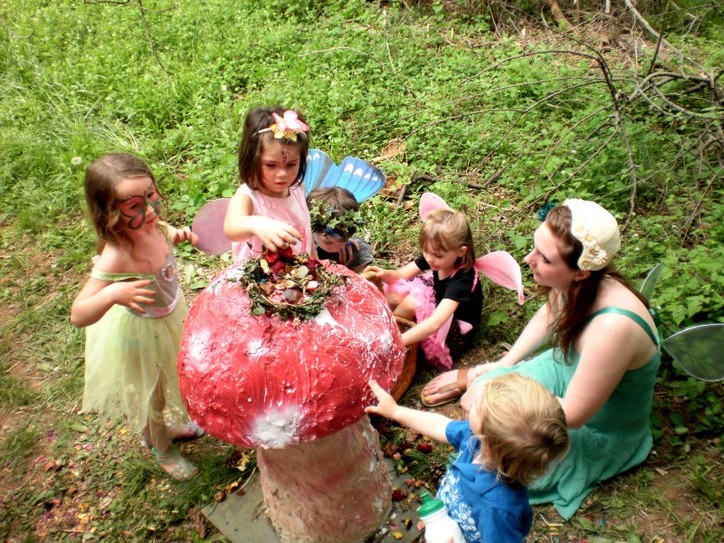 Finding Fae at Spoutwood Farm

On an April afternoon when rain spilled in the street
I settled in the book café and took a lonely seat
With coffee and free magazines, I'd beat the New York gloom
And think of sun-drenched canyons where cactus flowers bloom.
In the mood for pleasant fare to brighten up the day
A magazine peculiar, to my table found its way
Funky girls, Medieval Babes kept me charmed, and then
I came across an article: "In Search of Faery Men."
Felicity lamented the lack of presence male
Who proudly would come out as Fae, not garbed by fashion stale
Has masculine expression lost its ancient fire?
Are men just too distracted by games that don't inspire?
It became most clear to me this faery maid was right
Felicity and Oliver were seeing different light
Her heartfelt message sounded like the song of playful bird
I took my leave and walked the streets, and this is what I heard…
With greenman's courage, pixies' play, and graced with notes of PanCome woodland sprites and elves and trolls to reunite with ManReclaim your spirituality, in nature find your placeRemember myth and history and Faerieland embrace!Bring your men to festivals, join people of the SidheWhere they might find in themselves a masculinityThat frees male spirits, hardened minds, unfetters captured soulsBetter times await you when you take up mythic roles.
A rhyming poet, just a year, I heard the gracious call
I vowed that I would raise the bar, give Faerieland my all
Fight negative emotions that could obstruct my way
Discard the city's pressures and find my inner-Fae.
At very least she promised, I'd have a super time
With honest, calm intention, I might find the sublime
I made up my mind with sound resolve, for this could do no harm
Took her advice and made my plans to go to Spoutwood Farm.
In flowered shirt and feathered hat and glitter in my beard
I entered gates to wonderland, feeling scared and weird
Soon lost my inhibitions and found my inner boy
Who longed for some adventure and yearned to feel some joy.
My eyes beheld such visions rare and stunning winged-maids
River folk, woodland elves, greenmen of various shades
A bright blue faerie bugler blew a hearty sound
In a land that time forgot, where vivid hues abound.
Children's laughter filled the air to melt a cautious heart
I took my tea with little folk, a delightful way to start
With Posie Fae and company, we declared our pride
That we were friends of faeries and Nature was our guide.
Sweet Pea faerie told the tale of KUBIANDO way
She christened brand new faeries and taught us how to say
I believe in faeries, I believe in me, I know who I am, and I love the way we be, Celebrating life, in global harmony, I believe in faeries and I believe in me!
Linda Biggs, the Rainbow Maid, defiant faerie-proud
Gave advice and lessons to stand out in faerie-crowd
While gaining proper confidence and learning faerie good
She reminded us to do our part, support our neighborhood.
In my faerie classrooms, as a fledgling in a nest
I became enchanted, progressing in my quest
Learning from the landscape and finding local lore
Ari Berk suggested would present a sacred door.
To understanding myth and a deeper sense of being
Conversing with our ancestors in an act of seeing
Our stories started long before the hours of our birth
Exploring ancient wisdom brings us closer to the Earth.
From Maypole Court to Frodo Hill and places in between
Finer artisans and craftsmen I think I've never seen
Leather, jewelry, woolen goods for faeries to adorn
Their bodies, minds, and spirits where faerie style is born.
Drummers, strings, and bagpipes to make young pagans dance
On stages set throughout the realm, their spirits to enhance
A gently plucked fantasia from the harp of Lady Greene
Soprano voice for faerie song, most sweet and so serene.
A gentle shaman told me, to see through the veil I'd need
An open heart, with softer eyes, and a loving creed
Give thanks to every season, sing the glory of the May
And celebrate existence on every given day.
I felt the blessings and the gifts offered by this Wood
My feelings swelled and lasted as Felicity said they could
I found a path to better days and had tremendous fun
To the city I returned, but felt not all was won.
For faerie is a journey involving play and work
Wisdom calls for knowledge, so from study never shirk
I will continue on this trail, release the ties that bind
Join my brothers and my sisters and be of faerie kind!
Mother Nature I will serve and spread my faerie wings
And in my fashion I will find how best my tenor sings
In heated New York city streets, through the summer's haze
I'll seek out the faerie realm and find where faerie plays.
***
Theo van Joolen©2010
Spoutwood Farm