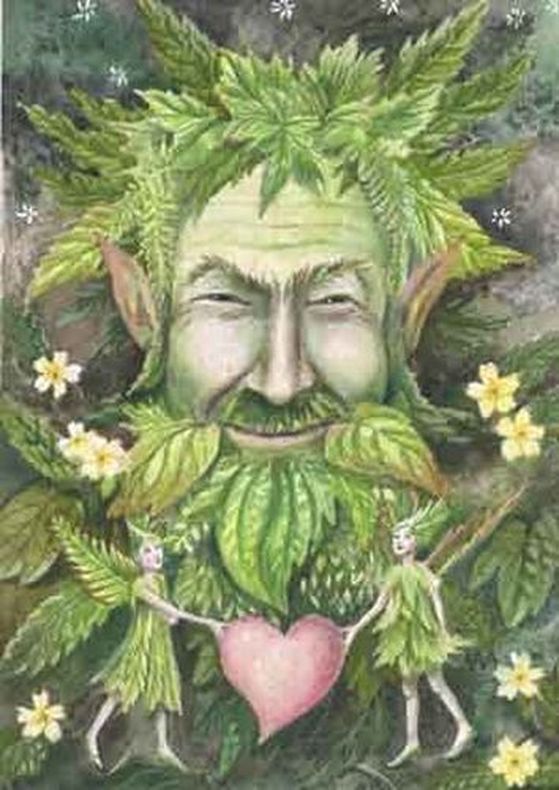 King of the Green Garden Fairies

Green Fairy King must be freed
His spirit lives with us indeed
He rules our woods and gardens
And spreads his vital, moral seed.

If he is not a rose to you
Or lilac, orchid, tulip blue
Perhaps your palette's blighted
By a weed of darker hue

As our king with truth explains
Over health he calmly reigns
His purpose is to give you choice
Removing poison's binding chains

A vibrant and enticing life
Might help you overcome the strife
That grows in regions hardened through
With sickness, pain, depression rife.

Our tenacious king believes
In giving goodness and receives
The joy of knowing love is shared
With anyone his light perceives

Detractors may shout out, "Beware!"
The garden fairies do not care
They facilitate the growth
And breathe a sweeter, healthy air

Forviriditas brings us cure
Of this Great Mother is quite sure
She brings wholesome remedies
Expresses what is earthly pure

Lithe green fairies only send
Vibrations for a better end
With open heart and vision true
All earth's plant life they defend

They bring you creative choice
Encourage your artistic voice
Nurture an enlightened state
So in health you may rejoice

Their energy renews the source
If we take care and mind our course
For blessings come from nature's realm
A deeper, sensual, crucial force

If you simply can't agree
With Mother Nature's sound decree
Please find another realm to blame
And leave our kingdom joyous, free!
***
Theo van Joolen©2010