Opus Forty Seven

I. Adagio sostenuto - Presto - Adagio
This is what it sounds like when a soul screams for life
Infused with passion, respectful of fear
Unbridled love for humanity
Steady, furious, resolved
Apollo unleashed to inculcate our hearts with
Time in love with space, joy with pain
RAGE
…is this beauty even
possible
!?
I listen and shout to the heavens
II. Andante con variazioni
Nature's variations in mathematical precision
The heart's emotions encapsulated
By pulsating piano strings and liquescent violin
Pure ecstasy, sorrow, regret, hope
Could anything sound as sweet as this?
Who needs mythical Passions and prophets?
This is the word of God incarnate
Colossal, titanic redemption
III. Presto
Step lightly but arm yourself against doubters
Expand yourself briskly because you are
Baptized by Ludwig's musical fire, salt of the Earth
No longer shy, meek, afraid
Grace yourself with wild, frantic, controlled will
Shroud your being in this great and wondrous master
Sing, dance, and scream to the
Kreutzer Sonata
Not to do so is...unfathomable
***
Theo J. van Joolen ©2013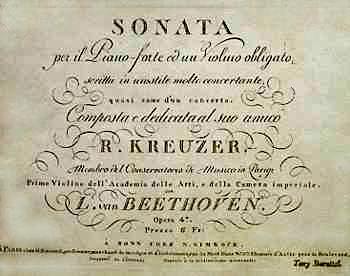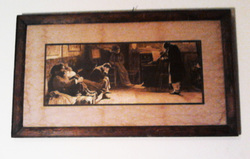 "Kreutzer Sonata." Copy of engraving of L. Balestrieri painting? Paris: 1900; W. Leo Arndt, b. 1857, engraver.? Framed. Purchased for $80.00 in 1984.