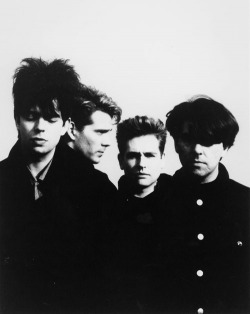 Paula and the Bunnymen

I always liked these fuzzy men
I like them now, I liked them then
They're like sugar on my lips
Most current sounds they do eclipse

I was in the Navy when
The time was hot for Bunnymen
I missed a lot of LA glam
The Cure, Pretenders and The Jam

I never knew the dancing-scene
Although for dancing I was keen
I never even dyed my hair!
Or wore clothes that made girls stare

My skin still virgin, no tattoo!
I want one now, what should I do?
I need some threads like Adam Ant
At 46, I could…but shan't...?

I often shed an evening tear
I missed Paula in 80's gear
I've heard it said she did amaze
And lit the room, her eyes ablaze

Like a Faerie she did soar
Hypnotically upon the floor
And if she blew you just one kiss
You'd spend the year in total bliss

Alas, they're only tales I hear
A witness, though, could make it clear
I have no portal through which to fly
Back 30 years, or there nearby

Does someone have a photograph
That could make us cry and laugh?
If Paula's in a mini-skirt
Let me just say, that wouldn't hurt.

If I'm asking way too much
A little forward, out of touch?
The music brought my mind intrigue
Like Devo, Police, and Human League.

I'll hang the picture on my wall
With Belinda, Chrissie, Joan, and all
She'll join Pat, Kate, Exene
And Annie Lennox, 80's Queen.


Theo van Joolen©2010
***


Dedicated to Paula Montez...who posted the video "Lips Like Sugar" to her Facebook Wall.