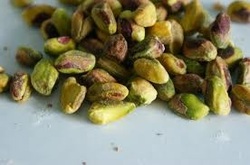 Pistachios That Pamper
I know...this is a Hazlenut Fairy...but she picks pistachios too...and wears the same colors...
I love pistachios from the bag
That left their shells behind
O, scrumptious, yummy little friends
You soothe a weary mind
Green and sweet and crunchy
They comfort and inspire
Sometimes they live in ice cream
Of THIS I'll never tire!
I'm told there even is a soup
Made from this tree-born source
O, HOLY inspiration
I'll cook a pot, of course!
So, freely will I pamper
Myself with flowing wine
What?!!...nuts and cream are nice, I'm sure
But Pinot Noir's divine!!
***
Theo J. van Joolen©2011
***
Inspired by the Facebook Status of Mary Katherine Blazzard Williams:
Self-pampering is like eating pre-shelled pistachios. And I love it!