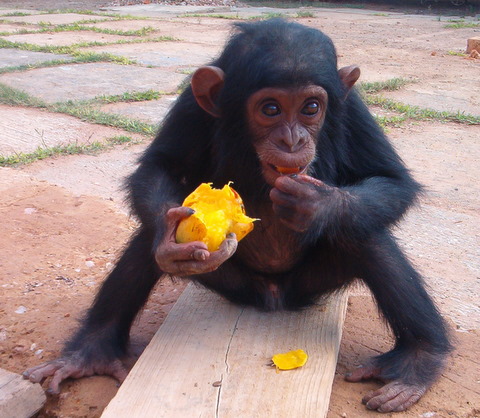 Picture lovingly borrowed from J.A.C.K.: The Lumbumbashi Based Chimpanzee Sanctuary. Link to Website
Regenerate!

Mangoes, papayas, and dates
Magic produced by the sun
The foods that belong on your plates
Then jump up and go have some fun!
Go jogging or hop on your bike
Play tennis or toss 'round the disc
Start swimming or take a trail hike
Just do it and make sure it's brisk!
High carbs and low fats in your tank
Will fuel your lithe body and mind
Shed pounds, put reserves in your bank
And gratefully tackle the grind
What occupies your every day?
The things that you need to survive,
Energy, sleep, and good play
With fruits you will easily thrive
Happily eat a banana
Wolf down those melons and grapes
Strengthen the
vida humana
Lest all or your courage escapes
Good health is the project of life
A masterpiece fun to embrace
Regenerate, mitigate strife
Put the smile right back on your face!
***
Theo J. van Joolen
©2012