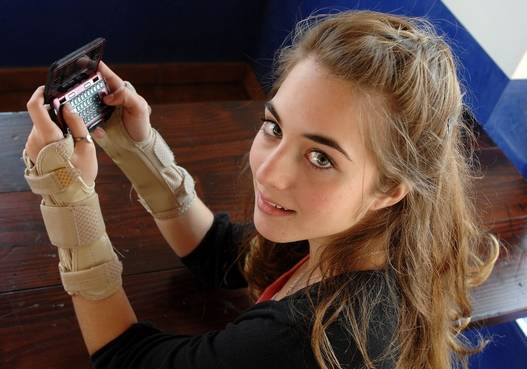 Annie Levitz, 16, has carpal tunnel syndrome that she developed over the course of a year by texting over 100 test messages a day to her family and friends. She might have to have surgery on both wrists.
Texting Tennis Elbow

***
Inspired by the Facebook Status of Mary:
I have a repetitive motion injury from texting... how pathetic is that???
***
I'm damaged by my texting
How PATHETIC is that?
Tendinitis in my digits
From my silly chitty-chat
My wrist just got a stiffy
My bursa just went rogue
Did you get my last message?
I'm hip! That shit is vogue!
Typing carpal tunnel
Well…that's just really lame!
Cell-phone tennis elbow
The damn QWERTY is to blame!
I can't pick up a pencil
Never mind a quill
Maybe I should join a group
Take a texting-addict's pill
What will I do if I can't tap
And my thoughts I just can't put
Into my holy Android
I'll use my left Foot!
So, if I can't get back to you
In a tittle, whit, or smidgen
I'll make sure to keep in touch
By horse, or carrier pigeon!
***
Theo J. van Joolen©2013