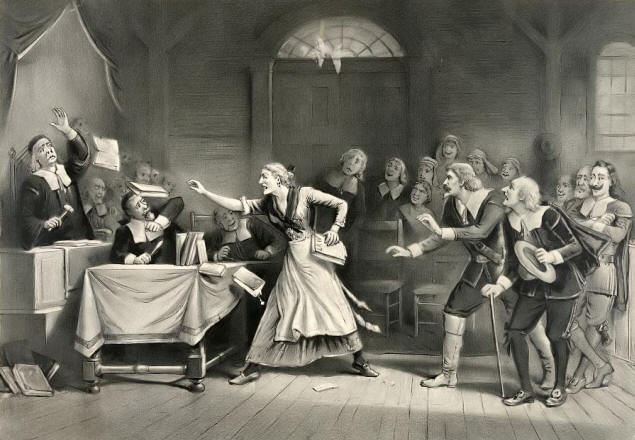 The Witches of Salem

I awoke upon the Witching hour
Which I'm not prone to do
On ordinary Autumn nights
I'm sure to sleep right through
But, on this chilled and moonlit eve
A force invaded me
And dragged my weak and mortal flesh
To a place I should not be!
A foreign entity inside
O, demon, dark and dour
Why must you cause grim restlessness?
Why haunt me on this hour?
O, Lord have mercy on my soul
I fear I am now kept
By atrocious wicked witches
Who are eerily adept
At turning gentle folk to rats
Or dogs, or cats, or swine
What horrid future lies in wait
What creature will be mine?
Am I to morph into an ass?
Will I be minced and brewed?
Into a cauldron that divines
As my soul becomes imbued
By Lucifer's dark magic spells
My suffering will be rife
Why do they bring God's servant
Into this pain and strife?
Such feverish premonitions
As my delirium spread!
I knew that witches had my hide
And I was close to dead!
I had no cross, nor talisman,
Amulet, nor gem
To ward off these wretched hags
That dragged me off with them
Whisked to a Salem graveyard
In a pallid, oaken grove
There danced a black-clad coven
What an awful web they wove!
Hades' unleashed daughters
Hecate's ghastly maids
Contorting, writhing, wrestling
With beasts of unknown shades
What Black Sabbath happens here?
Miles from Lancashire
In sixteen hundred ninety-three
What brings the Furies' fire?
What harvest will this Samhain bring?
Are my entrails to be read?
Some anthropomantic ritual?
Why must my blood be shed?!
In an ornate, salted circle
The Devil's brides did chant
As they mixed all roots and herbs
From hideous trees and plants
Into a boiling, scalding pot
That stank of the bowels of Hell
Some witches took to broomsticks
And cursed most fierce and fell
Conjuring the cold and dead
With necromantic skill
For some ungodly import,
Pleasure, need, or thrill!
I screamed to Heaven for reprieve
And said 'Hail Mary' thrice
As a witch beamed down on me,
Grinned, and said, "how nice."
"You call upon your Goddess
Of Heaven, Earth, and Sea
While standing at a crossroads
From which you may not flee!"
"You'd be
worse
without this praise,
To your Maiden, Mother, Crone
You've called upon a sister
And now, you must atone!"
"For maligning ancient healers
That commune with Mother Earth
Who bring you sacred remedies
And comfort you from birth"
"The way you now perceive us
Is clouded by your fear,
Superstition and sad ignorance
Has changed how we appear"
I swooned into unconsciousness
Befuddled by these words
From the wild and savage woman
With cat and three black birds
When I revived in early morn'
With heat and fever broke
A local nurse sat next to me
Peered sternly as she spoke:
"With Feverfew and Lavender,
Ginger and herb tea
You're cured of your pyrexia
That rose to 103."
"Your journey was quite perilous
At times you seemed most lost
Your eyes tell me a story
I see that you have crossed"
"Treasure the new wisdom
That you have gained these nights
Thank your goddess and the witches
And appreciate the rites!"
I purged my mind of stubborn thoughts
I opened my healed heart
The Salem Witches came to me
So I must do my part
To inspire upon my folk
To heed the ancient lore
Revel in the wind and stars
Rebuild your inner core!
If this small verse to you imparts
More open ways of seeing
Then my time was most well spent
Most jubilant and freeing!
***
Theo J. van Joolen©2014