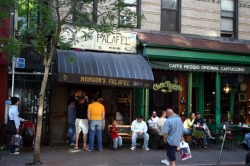 Village Creations


In 95 steps I walk to the door
Of my new Greenwich Village flat
What waits for me on the fifth floor
Is a room with a view, and a cat.

What I can see from there up on high
Is more than I dare admit
A nurturing place where I might again try
To read and write verse while I sit

And ponder icons who've furiously lent
Their plays, paint-strokes, and song
To caverns where angels and devils pay rent
To discover how humans belong

In a city possessed by no one, and all
That breathes gasps of joy and despair
And challenges, begs, commands you to scrawl
The delight and the pain that you bear

On canvas, or walls, or pages unbound
On a flute, violin, or a drum
Or in a new voice you may have just found
To sing out loud, "I have come!"

To raise my glass to the spirits of past
To Jackson, Bob, and Eugene
And drink the same nectar in quantities vast
So the fairies all know that I've been

At a café, or a bar, or the gates
To a place that illuminates nights
Where the trolls and the gnomes share the same plates
In consort with kind Village sprites!

In a bold chorus, diverse and strong
Singing in glorious voice
To live and to love! Join the great throng!
If not…you've made the wrong choice.
***

Theo van Joolen©2010

***
Photo of MacDougal St. Cafes in Greenwich Village, NYC.